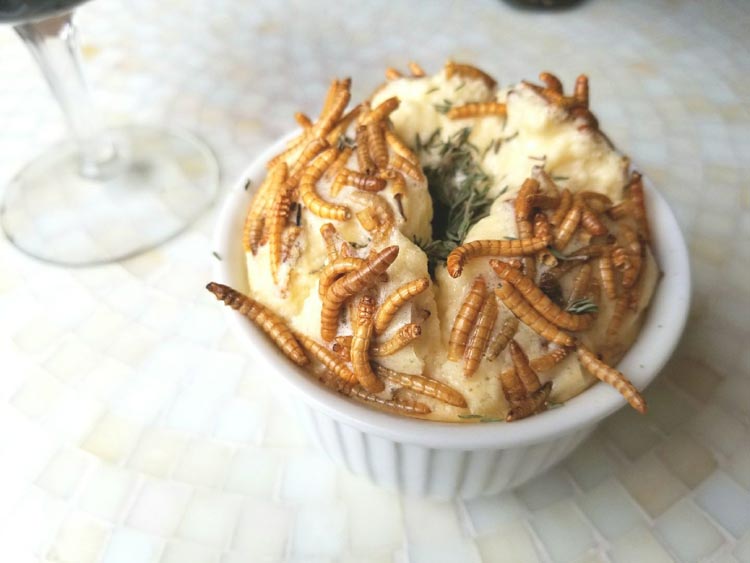 Another brilliant ChefPV creation using ingredients from our friends at Bugeater Foods. Visit our podcast "#10 Bugeaters & Powder Makers", fast forward to the 23:01 mark and follow along!
Mac & Cheese Mealworm Souffle
1 ½ TBSP BUTTER
1 TBSP ALL-PURPOSE FLOUR
¾ cup MILK
SALT (to taste)
PEPPER (to taste)
1 cup SMOKED GOUDA CHEESE (shredded)
1 EGG YOLK 2 EGG WHITES
1 cup Bugeater Foods MEALWORM MACARONI PASTA (cooked)
¼ cup MEALWORMS (thawed)
DIRECTIONS
Preheat oven to 350°F.
In a saucepan melt the BUTTER, add the FLOUR and stir on medium heat for a minute.
Add the MILK gradually while stirring to avoid lumps.
Season to taste with SALT and PEPPER and stir the sauce until sauce thickens.
Remove saucepan from heat and mix in the CHEESE until melted.
In a small mixing bowl, whisk the EGG YOLK and mix into cheese sauce.
In a large mixing bowl, whisk the EGG WHITES until stiff peaks are formed.
Gently fold the cheese sauce into the egg whites until well combined.
Butter the ramekins then fill a little more than a third of the way with MEALWORM MACARONI PASTA.
Fill the ramekins to almost full with cheese sauce then top with MEALWORMS.
Place ramekins on a baking sheet and bake souffles on the middle rack for 15 – 20 minutes until the surface becomes golden.
Serve immediately.