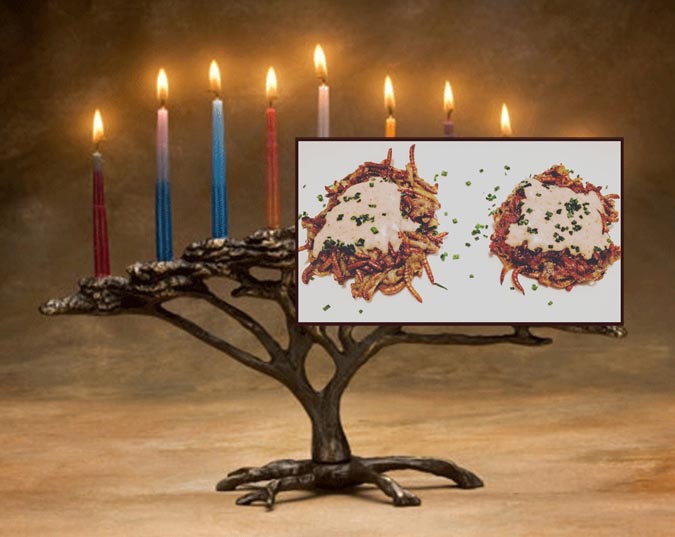 A ChefPV special for the Holiday Season…click here to visit "#8 The Battle of Evermore" podcast in which this recipe appears, fast forward to the 40:18 mark and follow along!
Latke Sauce
1 TBSP Mayo
1 TBSP Horseradish
1 TBSP Yogurt
1 TBSP Maple Syrup
1/4 tsp Five Spice Powder
1/4 tsp Sriracha
Mealworm Latkes
2 cups Yukon Gold Potatoes (grated)
1 cup Sunchokes (grated)
1/4 cup Red Onion (grated)
2 Eggs (whisked)
1/2 TBSP Rosemary (minced)
2 TBSPs All Purpose Cricket Flour
1 cup Mealworms
1 tsp Himilayan Pink Salt
Sesame Oil
Chives (chopped)
Place a sesame-oiled baking sheet into oven and preheat oven to 450°F.
Whisk Latke Sauce ingredients together in mixing bowl and set aside in fridge.
Line a large mixing bowl with a lint-free kitchen towel and add the potatoes, sunchokes and red onion to the bowl.
Wring excess liquid from the grated ingredients.
Release wrung ingredients into a dry, large mixing bowl.
Add egg, rosemary and cricket flour to grated ingredients and combine.
Stir in mealworms and himalayan pink salt.
Remove baking sheet from oven, drop batter in the desired size onto baking pan and return to oven for 6 minutes.
Flip Latkes and cook for 6 more minutes on the other side.
Serve on a plate with sauce and chives.