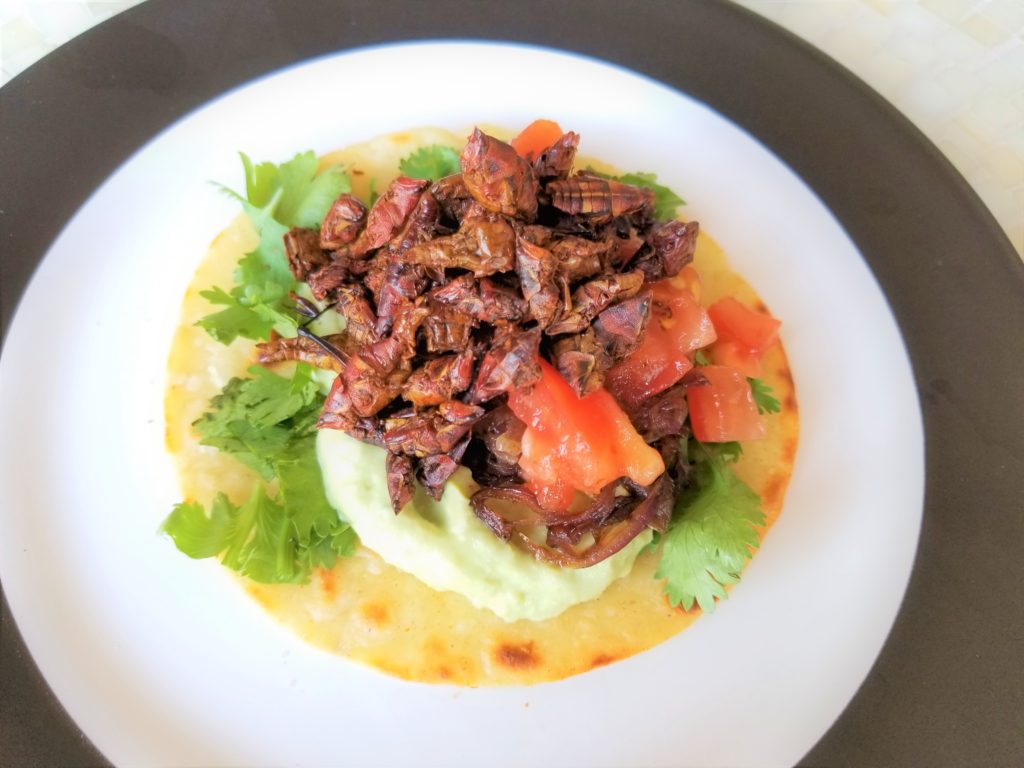 Recipe: Chirpin' Tostadas
From our premiere episode, ChefPV's first Cricketlicious Café segment.
Listen to our Cricketlicious Café Special #1 to follow along and learn this recipe.
CHIRPIN' TOSTADAS (makes 4 tostadas)
1 stick Butter or ½ cup Your Favorite Frying/Sauteing Oil (for frying Tortillas and sauteing Crickets)
4 Soft Corn Tortillas
1 head Romaine Lettuce or 1 bunch Cilantro (or Both)
1 Tomato
¼ cup Red Onion
1 Avocado
¼ cup Plain Yogurt (Any Style)
⅛ cup Lemon Juice
1 cup Fresh Crickets or Merci Mercado Chapulines
Desired Seasonings
Melt ½ stick Butter/ ¼ cup Oil in a skillet over medium-high heat.
When your Butter/Oil has reached temperature, place Tortilla(s) in pan for 3 to 5 minutes, until crisp on both sides.
Ready some paper towels/kitchen towels on a plate, remove Tortilla(s), place on towel to cool and absorb excess oil.
Clean then chop Romaine Lettuce and set aside in a bowl.
Medium-dice Tomato then set aside in a bowl.
Small-dice Red Onion and set aside in a bowl.
Slice open Avocado lengthwise, remove pit and scoop Avocado into bowl.  Whisk together with Yogurt and Lemon Juice.
Plate your Tortillas for serving and add Lettuce/Cilantro, Tomato, Onion and Avocado Crema.  Set aside.
Place skillet over medium-heat with remaining Butter/Oil and saute Crickets until crispy, about 10 minutes.  Merci Mercado Chapulines are already dry-roasted so only need about 5 minutes to add heat and crispiness.
Remove Crickets/Chapulines from heat and put on top of your tostadas to complete the dish.  Add any Desired Seasonings then serve.