We have a fascinating talk with the Director of the USDA's National Institute of Food and Agriculture (NIFA) Dr. Sonny Ramaswamy. He informs us as to what needs to happen for the edible insect industry to grow and flourish in the coming years. Dr. Ramaswamy is an engaging personality, and we had a lively and informative talk that will have you asking yourself where the time went.
In the Cricketlicious Cafe, ChefPV makes Chirpchos. Like Nachos but with Chirps Chips! And on "As the Crickets Chirp" Chip's mind is taken over by the Crypt-Keeper Wasp's larvae.
Chirpchos Recipe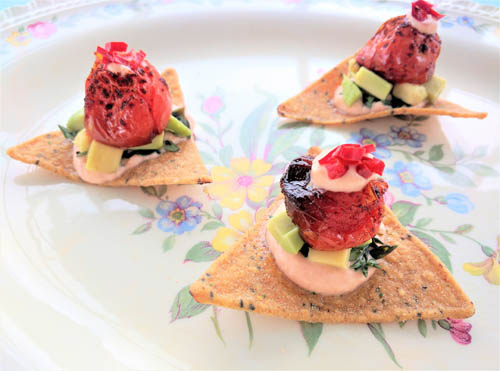 INGREDIENTS
1/4 cup GREEK YOGURT
1 tsp HORSERADISH (grated)
1 tsp SRIRACHA
1 pint GRAPE TOMATOES
BRAGG'S LIQUID AMINOS (spray bottle)
1 AVOCADO
1 LIME
1 RED FRESNO PEPPER
SMOKED PAPRIKA
1 small bag CHIRPS CHIPS
3 TBSP THYME LEAVES
DIRECTIONS
Preheat oven to 450°F.
In a bowl, whisk together GREEK YOGURT, HORSERADISH and SRIRACHA to create Sriracha-Yogurt Sauce. Set aside in refrigerator.
Put GRAPE TOMATOES on baking sheet and drench with LIQUID AMINOS. Place in preheated oven for 10 minutes.
Meanwhile, medium-dice AVOCADO and squeeze on some LIME JUICE. Set aside in fridge until ready to use.
Small-dice RED FRESNO PEPPERS and set aside.
Remove TOMATOES from oven, drench in more LIQUID AMINOS and and coat with SMOKED PAPRIKA. Return to oven for 5 minutes more.
Remove TOMATOES from oven and let cool.
Set-up an assembly line with YOGURT SAUCE, THYME LEAVES, AVOCADO, TOMATOES and PEPPERS.
Lay out CHIRPS CHIPS.
Center a dollop of YOGURT SAUCE on CHIRPS followed by a layer of THYME LEAVES, AVOCADO, GRAPE TOMATOES, a dot of YOGURT SAUCE on TOMATO and finish with RED FRESNO PEPPER.
We'd like to thank our sponsors and supporters: