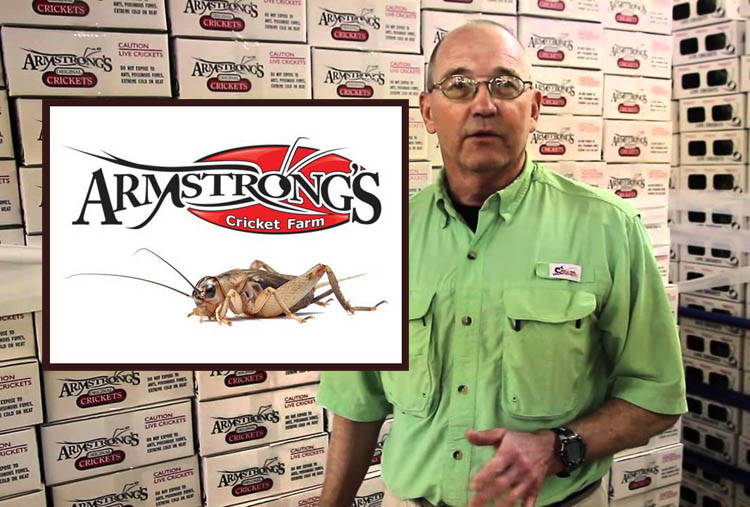 In the Season 2 opener of the Ento Nation podcast, the Cricket Man interviews Jack Armstrong, head of the oldest commercial cricket farming operation in North America. In the Cricketlicious Café, ChefPV is making Jalapeno Chapulines Cornbread Donuts, and you can also watch a new live version of today's Cricketlicious Café by clicking here.
"As the Crickets Chirp" begins its second season, and we find Chip in danger.
We also launch our Ento Nation/Entomo Farms contest giveaway, here are the details.
The Prize: A half pound of Entomo Farms Gluten Free Cricket Powder and an assortment of their Bug Bistro line of cricket and mealworm snacks, delivered right to your door!
To Enter: Go to the Ento Nation website and leave a comment on one of our posts. Every time you leave a comment on a post at the Ento Nation magazine, your name will be entered into the drawing. You can comment as many times as you like, however, only one comment per post per person qualifies. So if you had 10 comments on one post, it only counts as one entry for you. But if you had 10 comments in 10 different posts, you would be entered into the contest 10 times. Comments have to be at least a regular sentence length, several words…strung together to form a coherent communication, and the comment has to be relevant to the post. Even replying to another person's comments will count, as long as it adheres to the aforementioned guidelines. The contest begins on February 2, 2018 and ends at Noon PST on Valentine's day February 14, 2018. The drawing will be held in the afternoon, and the winner announced on the February 16th edition of the podcast.
Jalapeno Chapulines Cornbread Donuts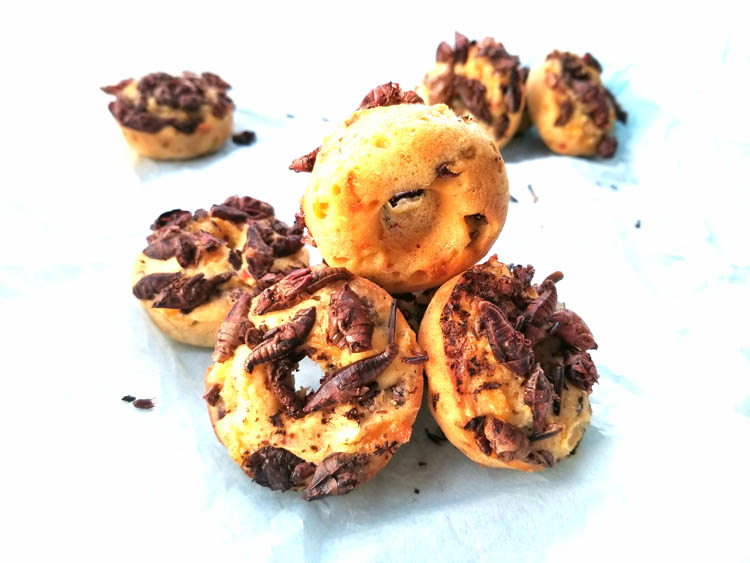 Merci Mercado Chapulines provided by: Little Herds (http://www.littleherds.org/)
INGREDIENTS:
1 TBSP BUTTER
1/4 cup ONIONS (finely chopped)
½ cup CORN KERNELS (fresh or canned)
1 tsp SAL DE GUSANO
½ cup ALL-PURPOSE FLOUR
½ cup YELLOW CORNMEAL
½ TBSP BAKING POWDER
¼ cup CHEDDAR CHEESE (shredded)
½ cup BUTTERMILK
⅛ cup AVOCADO OIL
1 large EGG
½ TBSP GREEN JALAPENO (minced)
½ TBSP RED JALAPENO (minced)
1 ½ TBSP MAPLE SYRUP
1 cup CHAPULINES (Merci Mercado)
DIRECTIONS:
1. Preheat oven to 375° F.
2. In a small saute pan, melt the BUTTER over medium-low heat.
3. Add the ONIONS and cook until soft and golden brown, 3 to 4 minutes.
4. Add the fresh CORN and cook an additional 3 to 4 minutes, stirring occasionally. Remove from the heat and set aside to cool. If using canned corn, add the corn and immediately remove from heat.
5. In a large bowl, stir together the FLOUR, CORNMEAL, BAKING POWDER, SAL DE GUSANO and CHEDDAR CHEESE.
6. In a second bowl, whisk together the BUTTERMILK, OIL, EGG, JALAPENOS and MAPLE SYRUP.
7. Add the buttermilk mixture to the flour mixture, stirring just until moistened.
8. Stir in the cooled onions and corn.
9. Stir in ½ cup CHAPULINES.
10. Spoon the batter into lightly greased mini donut pan, filling 3/4 of the way full.
11. Finish by topping each well with the remaining chapulines.
12. Bake 12 to 15 minutes or until golden and a toothpick inserted into the center comes out clean.
13. Remove from donut tins and cool on wire rack. Serve warm with Maple Syrup and Butter.
We'd like to thank our sponsors and supporters: