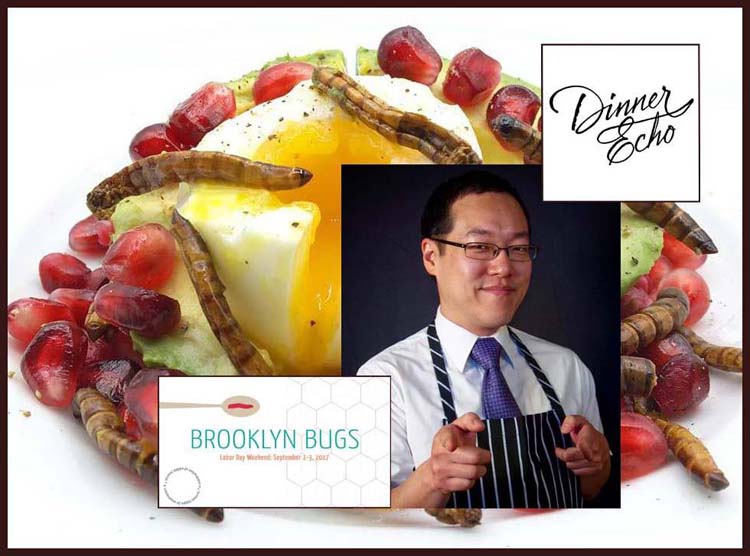 On this week's Season 1 finale of the Ento Nation podcast we talk with Chef Joseph Yoon. Joseph is a top rated private chef and caterer based in New York City. He is the Executive Director of Brooklyn Bugs, and also the Chef/Owner of Dinner Echo. Joseph is a true culinary artist, who's passion for cooking is rivaled only by his passion for life. We have an energizing and fascinating conversation about many things, including the challenges of being an "Ento Chef".
In the Cricketlicious Café, ChefPV makes us some Gingersect Cookies, and they are awesome! And we'll also talk about what's coming up, for the Ento Nation.
…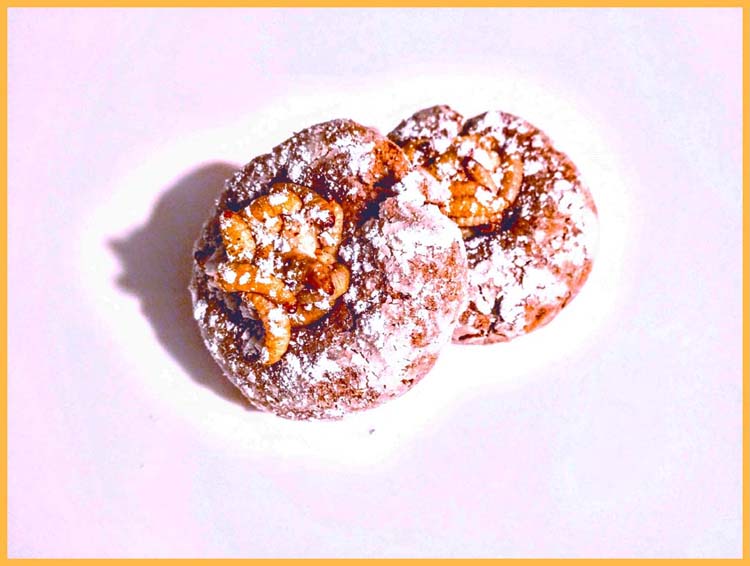 Gingersect Cookies
INGREDIENTS
1/3 cup HONEYWORMS (thawed)
7 TBSP MAPLE SYRUP
1 cup ALL PURPOSE CRICKET FLOUR
1 tsp BAKING POWDER
1/8 tsp BAKING SODA
2 TBSP FIVE SPICE POWDER
2 TBSP GINGER (minced)
1/3 cup WHIPPED CREAM CHEESE
3 TBSP COCONUT OIL
1 EGG
1/8 tsp HIMALAYAN PINK SALT
1 cup POWDERED SUGAR
DIRECTIONS
Preheat oven to 350°F.
In a small mixing bowl, mix HONEYWORMS with 2 TBSP MAPLE SYRUP and set aside.
Whisk together CRICKET FLOUR, BAKING POWDER, BAKING SODA, FIVE SPICE POWDER and GINGER in a large mixing bowl Set Aside.
In a separate mixing bowl, combine CREAM CHEESE, COCONUT OIL, remaining MAPLE SYRUP, EGG and SALT until creamy and smooth.
Combine wet ingredients with dry ingredients and mix until evenly incorporated.
Measure enough dough for desired cookie size and roll into a ball.
Put POWDERED SUGAR on a plate and roll dough balls to thoroughly cover, puncture middle with your thumb and fill with the honeyworms.
Grease a baking tray with coconut oil, arrange cookies on the tray then place tray into the oven for 14 – 20 minutes.
Remove tray with cookies and sift powdered sugar over cookies and let cool about 5 – 10 minutes then ENJOY!!!
We'd like to thank our sponsors:
Dr. Aaron T. Dossey, editor of "Insects as Sustainable Food Ingredients":
https://www.elsevier.com/books/insects-as-sustainable-food-ingredients/dossey/978-0-12-802856-8
GrioPro Cricket Powder: http://cricketpowder.com/
All Things Bugs: http://allthingsbugs.com/
Sustainable Boost: https://www.sustainableboost.com/
                                                                      Bugeater Foods: https://www.bugeaterfoods.com/
Bugible: https://www.eatbugsevents.com/
 Special thanks to MealFlour for Instagram help!