In this episode we talk with Malcolm Diack, founder of Otago Locusts in New Zealand. In 2017, Otago Locusts won the Novel category of the New Zealand Food Awards, and also a commendation by the New Zealand Sustainable Business Network Awards. Malcolm started Otago Locusts back in 2009.
We also have a chat with Kevin Bachhuber. Kevin is an award-winning consultant in sustainable agriculture, small-business innovation, and finance. Founder of the first American insect farm to obtain food-grade certifications, his pioneering work as an engineer of green technology solutions has pushed the insect farming industry in a dramatic new direction.
And in the Cricketlicious Cafe, ChefPV makes Curried Zucchini Wrapped Grasshoppers!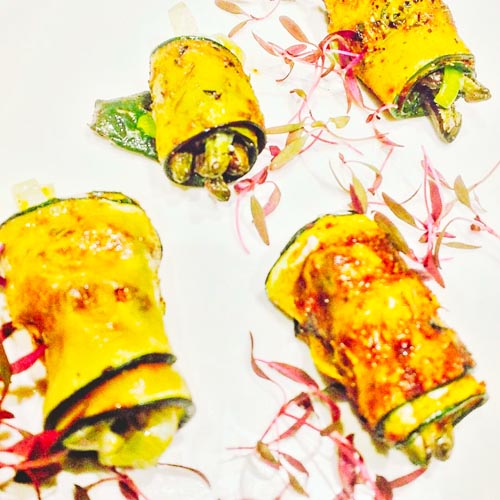 INGREDIENTS
20 GRASSHOPPERS (freeze-dried)
2 cups WHEATGRASS JUICE
2 ZUCCHINIS
1 TBSP CURRY POWDER
1 tsp OREGANO POWDER
½ tsp GARLIC POWDER
½ tsp GARAM MASALA
¼ tsp TURMERIC
SESAME OIL
HIMALAYAN PINK SALT
3 oz GOAT CHEESE
1 large RED BELL PEPPER (roasted)
DIRECTIONS
Soak GRASSHOPPERS in WHEATGRASS JUICE for at least 2 hours (preferably overnight for maximum infusion).

Place the top rack in oven 6 inches from the heat source and preheat to Broil.

Trim the ZUCCHINI ends and slice into ¼-inch pieces lengthwise using a mandoline.

In a small mixing bowl, whisk together CURRY POWDER, OREGANO POWDER, GARLIC POWDER, GARAM MASALA and TURMERIC.

Lightly coat zucchini strips with SESAME OIL on both sides.

Massage the spice mixture on both sides of the zucchini.

Coat a baking sheet with sesame oil then lay out the zucchini strips in a single layer.

Sprinkle SALT over zucchini then place the baking tray in the oven and broil for 4 minutes.

Remove the zucchini from the oven, flip the slices over and return to the oven for 5 to 6 minutes more, making sure the zucchini is golden brown and slightly charred but not too crispy and burned.

Remove the zucchini from the oven and let cool.

Sprinkle GOAT CHEESE along the length of each zucchini strip, adding a slice of ROASTED PEPPER at each end.

Take a moment to wash your hands to avoid getting goat cheese all over your rolls as you roll them up.

Add a grasshopper to the top of the strips, along the width of the zucchini.

Roll the strips and serve on a plate, seam side down.
We'd like to thank our sponsors:
Dr. Aaron T. Dossey, editor of "Insects as Sustainable Food Ingredients":
https://www.elsevier.com/books/insects-as-sustainable-food-ingredients/dossey/978-0-12-802856-8
GrioPro Cricket Powder: http://cricketpowder.com/
All Things Bugs: http://allthingsbugs.com/
Sustainable Boost: https://www.sustainableboost.com/
                                                                      Bugeater Foods: https://www.bugeaterfoods.com/
Bugible: https://www.eatbugsevents.com/
 Special thanks to MealFlour for Instagram help!