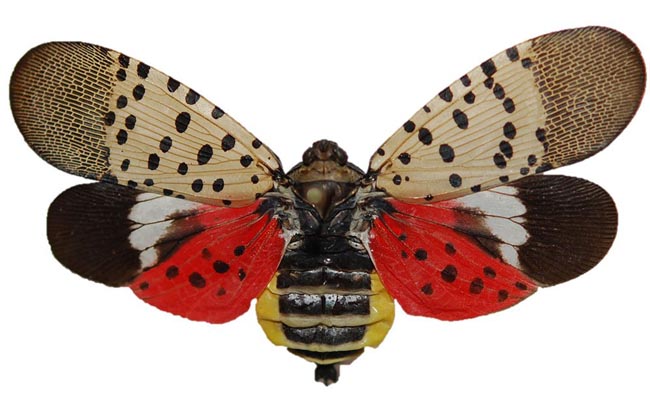 From the article "State: New Invasive Species Threatens Crops" by Whitney Bashaw for The Daily Star. Click here to read the full story.

PENNSYLVANIA:The pest was discovered in the U.S. in Berks County, Pennsylvania, in 2014. It is a pervasive hitchhiker pest, and 13 counties in Pennsylvania are under quarantine (as of December 2017). The state of Delaware confirmed finding the insect in late November. Officials are instructing that people take all possible precautions when traveling to Pennsylvania or Delaware to check for egg masses or the insect…there have been documented yield and crop problems in the quarantined areas of Pennsylvania. Farmers confirmed lower sugar levels in wine grape harvests, leading to poor fermentation, and hops farmers reported affected crops. While the lanternflies are unique and noticeable, with a splash of red on their spotted wings, their eggs look like a streak of mud, making them difficult to identify. Logue said they lay eggs on any outdoor surface, from tree bark to trash can lids, and are how the insect moves.
Photo courtesy Pennsylvania Dept. of Agriculture.