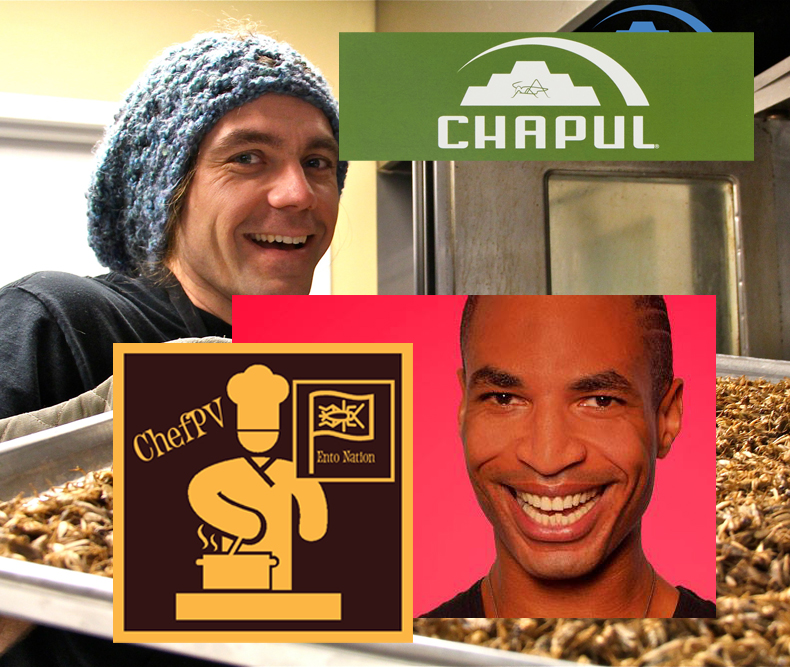 #1 "The Ento Nation"
In the premiere, we take a look at what this podcast is all about. You'll meet your host, The Cricket Man, who utilizes his years of experience as a cricket farmer and Ento Industry insider, to help guide you through the fascinating world of Ento. The Cricket Man talks a little bit about the FAO of the UN 2013 report on edible insects (see link to pdf of report below). He also shares the real reason he farms crickets, you may be surprised.
The Cricket Man also interviews Pat Crowley, Founder and CEO of Chapul cricket energy bars. Chapul just went over $1 million in sales. Pat tells the story of taking a simple idea, eating bugs, and turning it into an unexpected career.
You'll meet ChefPV, the Resident Chef in our Cricketlicious Café! Each week, ChefPV will walk you through an Ento recipe you can cook up right in your own kitchen in a way that only ChefPV can do! We also chat just a little bit about being an Ento-Chef and the whole entomophagy (eating bugs) movement.
This week's recipe is Chirpin Tostadas!
And then there's the premiere of "As the Crickets Chirp", the continuing saga of the sleepy little town of Bugton Hollow. Population…unknown! Get your favorite beverage and a bowl of whole roasted crickets and enjoy!
FAO of UN 2013 Report (.pdf): "Edible Insects: Future Prospects for Food and Feed Security."
---
Chirpin' Tostadas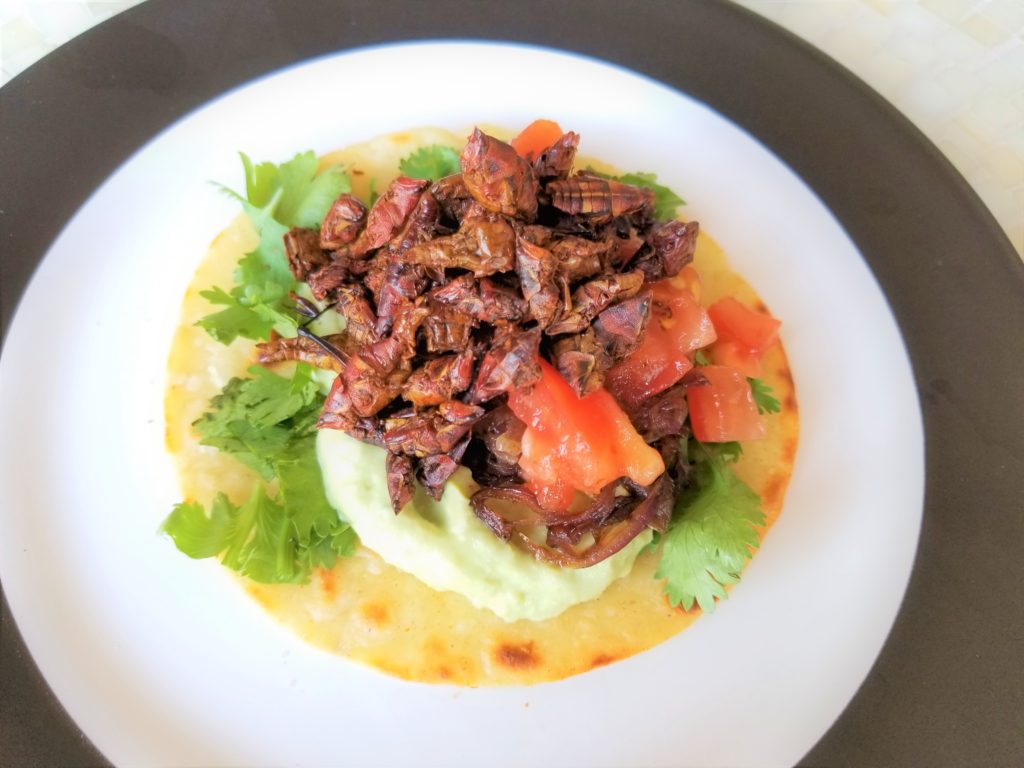 1 stick Butter or ½ cup Your Favorite Frying/Sauteing Oil (for frying Tortillas and sauteing Crickets)
4 Soft Corn Tortillas
1 head Romaine Lettuce or 1 bunch Cilantro (or Both)
1 Tomato
¼ cup Red Onion
1 Avocado
¼ cup Plain Yogurt (Any Style)
⅛ cup Lemon Juice
1 cup Fresh Crickets or Merci Mercado Chapulines
Desired Seasonings
Melt ½ stick Butter/¼ cup Oil in a skillet over medium-high heat.
When your Butter/Oil has reached temperature, place Tortilla(s) in pan for 3 to 5 minutes, until crisp on both sides.
Ready some paper towels/kitchen towels on a plate, remove Tortilla(s), place on towel to cool and absorb excess oil.
Clean then chop Romaine Lettuce and set aside in a bowl.
Medium-dice Tomato then set aside in a bowl.
Small-dice Red Onion and set aside in a bowl.
Slice open Avocado lengthwise, remove pit and scoop Avocado into bowl.  Whisk together with Yogurt and Lemon Juice.
Plate your Tortillas for serving and add Lettuce/Cilantro, Tomato, Onion and Avocado Crema.  Set aside.
Place skillet over medium-heat with remaining Butter/Oil and saute Crickets until crispy, about 10 minutes.  Merci Mercado Chapulines are already dry-roasted so only need about 5 minutes to add heat and crispiness.
Remove Crickets/Chapulines from heat and put on top of your tostadas to complete the dish.  Add any Desired Seasonings then serve.
Yield: 4 Tostadas
---
We'd like to thank our sponsors: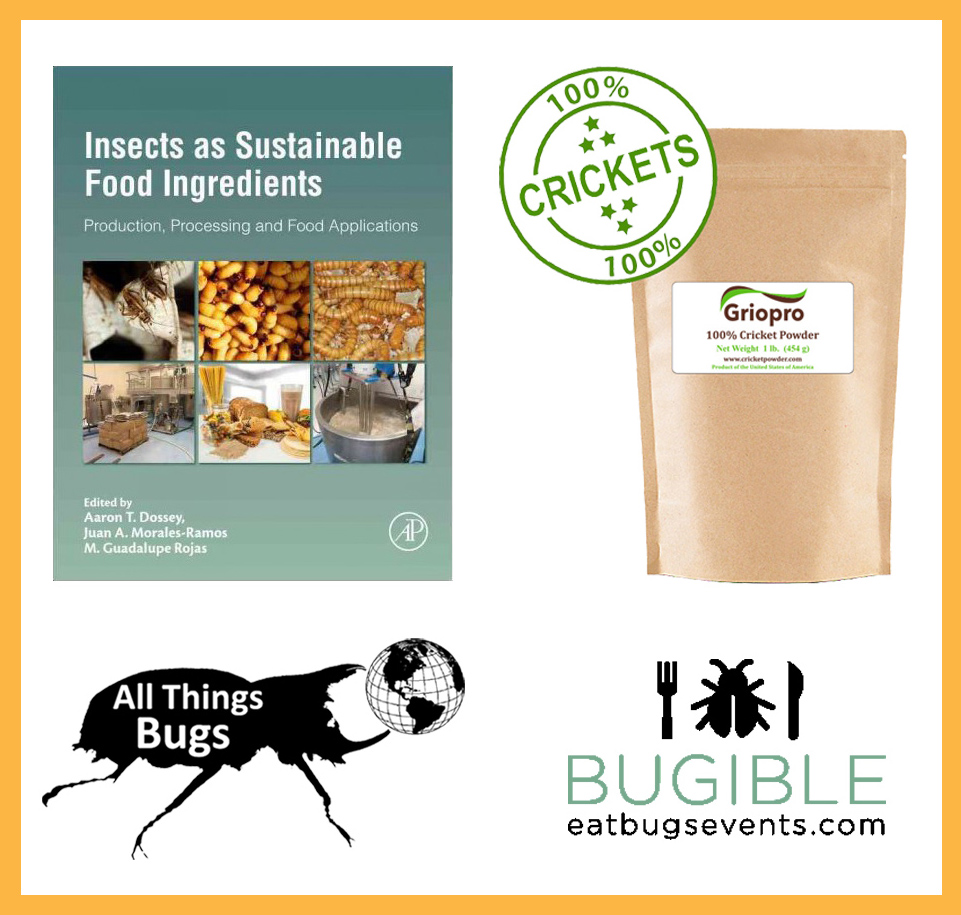 Dr. Aaron T. Dossey, Editor of Insects as Sustainable Food Ingredients
GrioPro cricket powder. cricketpowder.com
All Things Bugs LLC.  allthingsbugs.com
Bugible at eatbugsevents.com