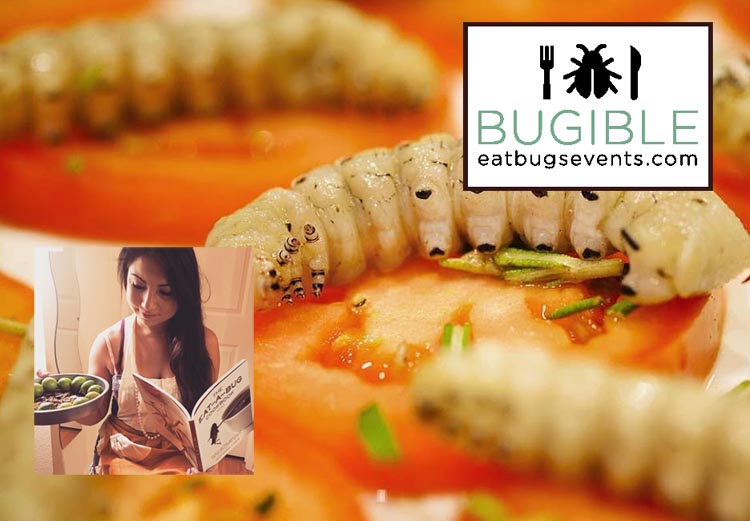 Mastering the culinary art of turning curiosity to delight, Aly Moore of Bugible loves introducing people to the joy of entomophagy! She's hosting the Lovebug Dinner event in Santa Monica this Wednesday February 7th, more on that in a moment…
If you listen to the Ento Nation podcast, then you have no doubt heard me utter the title of this article pretty much from the beginning. You'll hear and see a lot more of Aly Moore around the Ento Nation in the future, although she appears in a couple of places already.
It is Aly's voice that you hear during the podcast with that swingin' music telling you all about how wonderful the Ento Nation magazine is and that you're listening to the Cricket Man, and all of that voiceover stuff.
I noticed the video, and the write up at Circa, and wanted to share…
The startup business manager by day began experimenting with bug recipes after trying "chapulines," or cricket tacos, in Mexico and fell down a rabbit-hole, discovering companies around the country championing bugs as a sustainable food source. Aly's menu now dives deep into the flavor spectrum of all sorts of bugs with dishes like termite caprese, grasshopper egg souffle, june bug jam wafers, and ant couscous stuffed endive.
Click here to read the article "This events company wants to save the world through edible bugs" by Morgan Tremaine for Circa.
Here at the Ento Nation, we got nothin' but love for Aly. Here's that video…
Aly has an event coming up in the Los Angeles area and not only is she offering the usual wonderful wine pairings, but I believe they also will be doing bug and specialty coffee pairings as well. Info:
Lovebug Dinner at Cafe Demitasse in Santa Monica
From the Cafe Dematisse website:
"Join us as we pair up with Bugible to offer the most unique dinner series this February: The Love Bug Dinner. We are offering a 7-course tasting menu featuring bugs like termites and grasshoppers all paired with Cafe Demitasse's specialty coffees and wines. RSVP before February 7th, as we will sell out!"
February 13th, 7:30pm, at our Santa Monica cafe. We only have 20 seats available for this event.
Menu Below:
SMALL STARTERS
Ant Couscous Stuffed Endive
Endive – Red Cabbage – Couscous – Honey – Queen Weaver Ants
Termite Potato Poppers
Termites – Mashed Potatoes – Cheese – Greens
MEDIUM MAINS
Sheild Bug Bruschetta
Toast – Tomato Paste – Cheese – Raddish – Shield Bugs
Mealworm Pasta Salad
Penne Pasta – Mealworms – Mozzarella – Cherry Tomatoes – Olives – Parsley – Feta
Cheese – Red Onions – Pepperoncini – Italian Dressing
DELICIOUS DESSERTS
Chocolate Cricket Brownies
Whole Cricket Crunch – Cricket Powder – Traditional Mix – Strawberries
June Bug Jam Wafers
Vanilla Wafers – Jam – June Bugs
Grasshopper Salted Caramel Cake
Grasshopper – Grasshopper Salt – Caramel – Angel Food Cake
Bug Appetit!