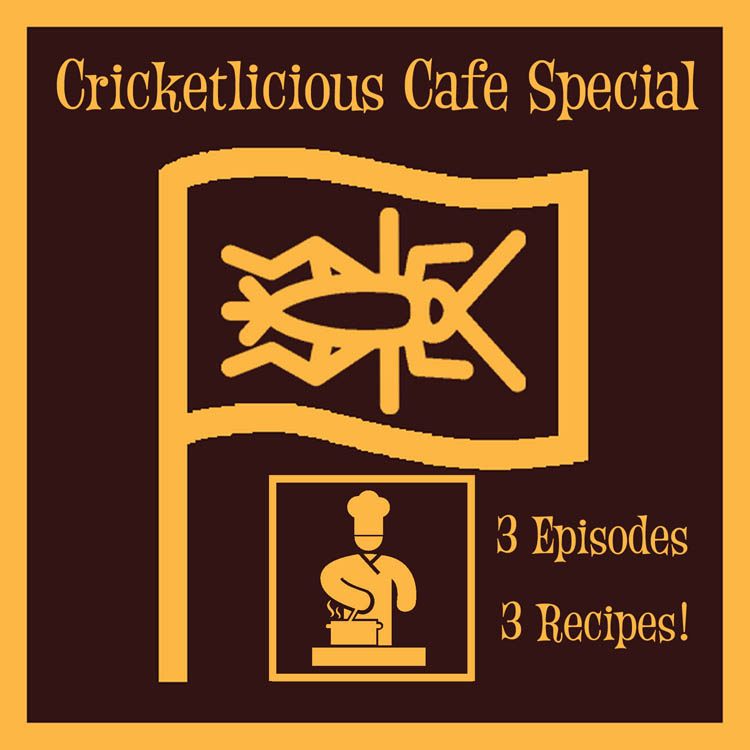 "Cricketlicious Cafe Special #1"
For your Ento dining pleasure, we present three of our recent Cricketlicious Cafe segments featuring bug-based recipes you can make at home while following along with our resident Ento Chef ChefPV or one of our Special Guest Chefs.
In this special, ChefPV brings you "Chirpin' Tostadas" and "Pineapple Crick Sticks", while Guest Chef Aly Moore shows us how to make "Tomato Hopper Poppers".
Recipes below:
CHIRPIN' TOSTADAS (makes 4 tostadas)
1 stick Butter or ½ cup Your Favorite Frying/Sauteing Oil (for frying Tortillas and sauteing Crickets)
4 Soft Corn Tortillas
1 head Romaine Lettuce or 1 bunch Cilantro (or Both)
1 Tomato
¼ cup Red Onion
1 Avocado
¼ cup Plain Yogurt (Any Style)
⅛ cup Lemon Juice
1 cup Fresh Crickets or Merci Mercado Chapulines
Desired Seasonings
Melt ½ stick Butter/ ¼ cup Oil in a skillet over medium-high heat.
When your Butter/Oil has reached temperature, place Tortilla(s) in pan for 3 to 5 minutes, until crisp on both sides.
Ready some paper towels/kitchen towels on a plate, remove Tortilla(s), place on towel to cool and absorb excess oil.
Clean then chop Romaine Lettuce and set aside in a bowl.
Medium-dice Tomato then set aside in a bowl.
Small-dice Red Onion and set aside in a bowl.
Slice open Avocado lengthwise, remove pit and scoop Avocado into bowl.  Whisk together with Yogurt and Lemon Juice.
Plate your Tortillas for serving and add Lettuce/Cilantro, Tomato, Onion and Avocado Crema.  Set aside.
Place skillet over medium-heat with remaining Butter/Oil and saute Crickets until crispy, about 10 minutes.  Merci Mercado Chapulines are already dry-roasted so only need about 5 minutes to add heat and crispiness.
Remove Crickets/Chapulines from heat and put on top of your tostadas to complete the dish.  Add any Desired Seasonings then serve.
…
PINEAPPLE CRICK STICKS
1 large Pineapple
6-inch Skewers or Lollipop Sticks
1 TBSP Olive Oil
1 cup Sustainable Boost Crickets
2 TBSP Honey
Sustainable Boost Turmeric
Sustainable Boost Ginger
1 cup Semi-Sweet Dark Chocolate Chips
1 cup Pistachios (chopped)
On a sturdy cutting board, cut the top and bottom off the Pineapple then trim off all the rind from the sides.
Cut the Pineapple in half lengthwise, remove the core, then cut the halves into wedges.  Arrange the wedges on paper towels to absorb excess moisture.
Insert Skewer/Lollipop Stick into each pineapple wedge and set aside.
Heat Olive Oil over medium heat and add Crickets to pan and quick-crisp for about 1 minute.
Remove from heat and add Honey, Sustainable Boost Turmeric and Sustainable Boost Ginger.  Mix until all ingredients are evenly incorporated.  Transfer to a bowl then set aside.
Place a small saucepan over medium-low heat, add Dark Chocolate Chips and stir constantly until completely melted.  Remove from heat.
Line a baking sheet or large plate with wax or parchment paper.
Dip each of the Pineapple wedges into the Chocolate and place on the wax paper.
Lightly press the Crickets into the bottom half of the chocolate on the Pineapple wedges.
Lightly Press the Chopped Pistachios on the top portion of the chocolate on the Pineapple wedges.
Place the sheet/plate of Pineapple wedges into fridge for 15 minutes to set or until ready to serve.
…
TOMATO HOPPER POPPERS
1 cup cherry tomatoes
½ package cream cheese
¼ cup minced green onions
¼ cup minced fresh parsley
¼ teaspoon worcestershire sauce
¼ cup chopped chapulines
Cut a thin slice off the top of teach tomato.
Scoop out and discard pulp.
Invert the tomatoes on a paper towel to drain.
Combine remaining ingredients in a bowl.
Mix well.
Bug Appetite!