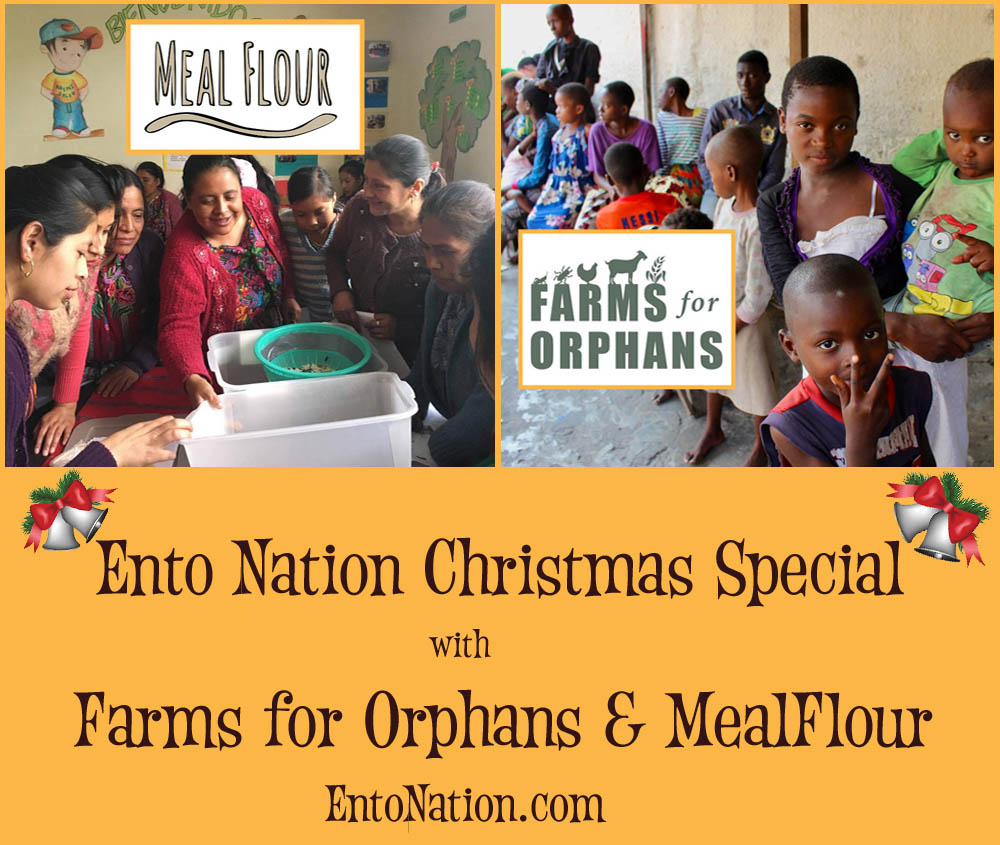 #9 "Christmas Special: Bugs Save Kids"
Our Christmas Special focuses on two organizations that are actually doing good in the world, literally saving lives and improving communities by teaching them how to farm certain insects: Farms for Orphans run by Dr. Amy Franklin in Africa, and MealFlour run by Elizabeth Frank and Gabby Wimer in Central America.
The Cricket Man is turned loose in the Cricketlicious Cafe and he makes what he claims to be the "Greatest recipe ever created for people to eat." You decide.
The Worst Chocolate Chip Cookies Ever
1 cup unsalted butter melted and then cooled for at least 5 minutes* (226g)
1 1/2 cups light brown sugar packed (300g)
1/2 cup granulated sugar (100g)
2 eggs room temperature preferred
1 teaspoon vanilla extract
1/4 cup maple syrup (60ml)
3 1/4 cups all purpose flour (415g)
2 teaspoon cornstarch
1 teaspoon baking powder
1 teaspoon baking soda
1 teaspoon salt
2 cups chocolate chips. 1 cup of mini chocolate chips and 1 cup regular sized chips.
In large bowl, stir together melted butter and sugars.
Add eggs, one at a time, stirring combined.
Stir in vanilla extract and maple syrup.
In separate bowl, whisk together flour, cornstarch, baking powder, baking soda, and salt.
Gradually add flour mixture to wet ingredients, stirring until completely combined.
Stir in chocolate chips.
Cover bowl with clear wrap and allow to chill for at least 30 minutes.
While the dough is chilling, preheat oven to 350F (175C) and prepare cookie sheets by lining with parchment paper.
Scoop about 2-3 Tbsp of cookie dough and roll into balls, making them slightly taller than they are wide. Place them at least 2 inches apart on prepared cookie sheet.
Press chocolate chips into cookie dough balls in various places.
Bake about 13 minutes (cookies will appear to be a bit underdone, but edges should be just beginning to turn golden brown).
Merry Christmas, baby!
MealFlour:
Click here to donate to MealFlour.
Click here to learn all about MealFlour.
Farms for Orphans:
Click here to donate to Farms for Orphans.
Click here to learn all about Farms for Orphans.
We'd like to thank our sponsors:
Dr. Aaron T. Dossey, editor of "Insects as Sustainable Food Ingredients":
https://www.elsevier.com/books/insects-as-sustainable-food-ingredients/dossey/978-0-12-802856-8
GrioPro Cricket Powder: http://cricketpowder.com/
All Things Bugs: http://allthingsbugs.com/
Sustainable Boost: https://www.sustainableboost.com/
                                                                      Bugeater Foods: https://www.bugeaterfoods.com/
Bugible: https://www.eatbugsevents.com/
 Special thanks to MealFlour for Instagram help!