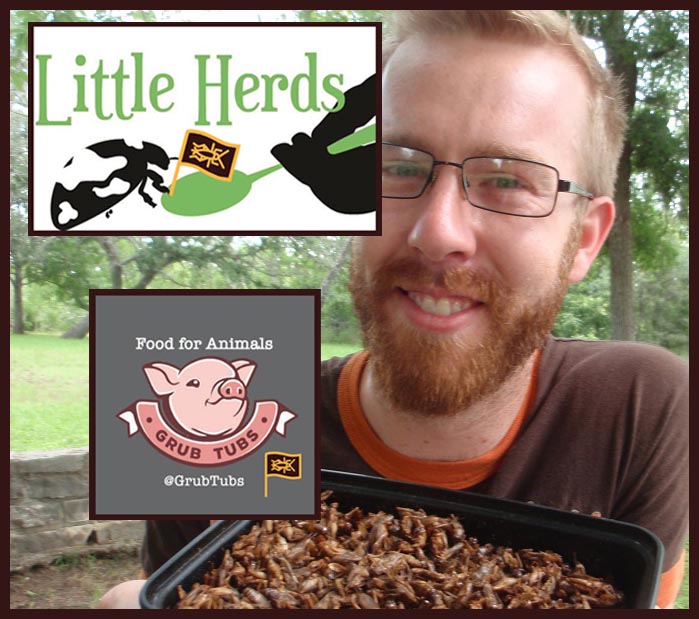 #8 "The Battle of Evermore"
On this edition of the Ento Nation podcast, the Cricket Man has a thought-provoking and enlightening conversation with Robert Nathan Allen aka RNA.
Now, on the front lines of anything, the place where the rubber meets the road, where the proof is in the putting, where hammer meets nail, where the sausage is made, where world's collide, the Battle of Evermore…where how many more clichés can I drag into this opener?
RNA operates regularly on the very Battle-field of Evermore, which is just my name for the modern psychological battlefield of overcoming the ick factor when it comes to getting the general public to accept insect-based foods into the family. You know, the grocery store family? The supermarket family? The stores with the big long aisles, the big long protein aisles…the beef aisle, the pork aisle, the poultry aisle, the seafood aisle , the vegetarian aisle, the Ento aisle…oh yes, the Ento Aisle! But to get there from here much must be overcome in a great battle of cultures, especially ours here in the West that says eating bugs is well…not exactly mainstream.
RNA is the founder of Little Herds, a non-profit organization that educates and empowers communities, both locally and globally, to support and promote the use of insects for food and feed as an environmentally sound and economically viable source of nutrition. He is also the co-founder of Grub Tubs, which is a table to farm –yep, you read it correctly, not farm to table, but table to farm—service, actually an award winning service (they won the WeWork Creator Award) that collects local food wastes from restaurants, super markets and the like to use as feed for local insect farmers who then raise grubs as a feed supplement to local chicken farmers. We cover a lot of ground and talk about the Ento industry as a whole, as well. It is one of those conversations where you look up and 15 minutes have passed and you go "Wow, where did the time go?" Excellent discussion.
In the Cricketlicious Café, ChefPV teaches us how to make Mealworm Latkes and also treats us to some "intonations" of his own, just in time for Hanukkah. And on "The Night Talker" things take a strange turn.
Mealworm Latkes
Latke Sauce
1 TBSP Mayo
1 TBSP Horseradish
1 TBSP Yogurt
1 TBSP Maple Syrup
1/4 tsp Five Spice Powder
1/4 tsp Sriracha
Mealworm Latkes
2 cups Yukon Gold Potatoes (grated)
1 cup Sunchokes (grated)
1/4 cup Red Onion (grated)
2 Eggs (whisked)
1/2 TBSP Rosemary (minced)
2 TBSPs All Purpose Cricket Flour
1 cup Mealworms
1 tsp Himilayan Pink Salt
Sesame Oil
Chives (chopped)
Place a sesame-oiled baking sheet into oven and preheat oven to 450°F
Whisk Latke Sauce ingredients together in mixing bowl and set aside in fridge.
Line a large mixing bowl with a lint-free kitchen towel and add the potatoes, sunchokes and red onion to the bowl.
Wring excess liquid from the grated ingredients.
Release wrung ingredients into a dry, large mixing bowl.
Add egg, rosemary and cricket flour to grated ingredients and combine.
Stir in mealworms and himalayan pink salt
Remove baking sheet from oven, drop batter in the desired size onto baking pan and return to oven for 6 minutes.
Flip Latkes and cook for 6 more minutes on the other side
Serve on a plate with sauce and chives
We'd like to thank our sponsors:
Dr. Aaron T. Dossey, editor of "Insects as Sustainable Food Ingredients":
https://www.elsevier.com/books/insects-as-sustainable-food-ingredients/dossey/978-0-12-802856-8
GrioPro Cricket Powder: http://cricketpowder.com/
All Things Bugs: http://allthingsbugs.com/
Sustainable Boost: https://www.sustainableboost.com/
                                                                      Bugeater Foods: https://www.bugeaterfoods.com/
Bugible: https://www.eatbugsevents.com/