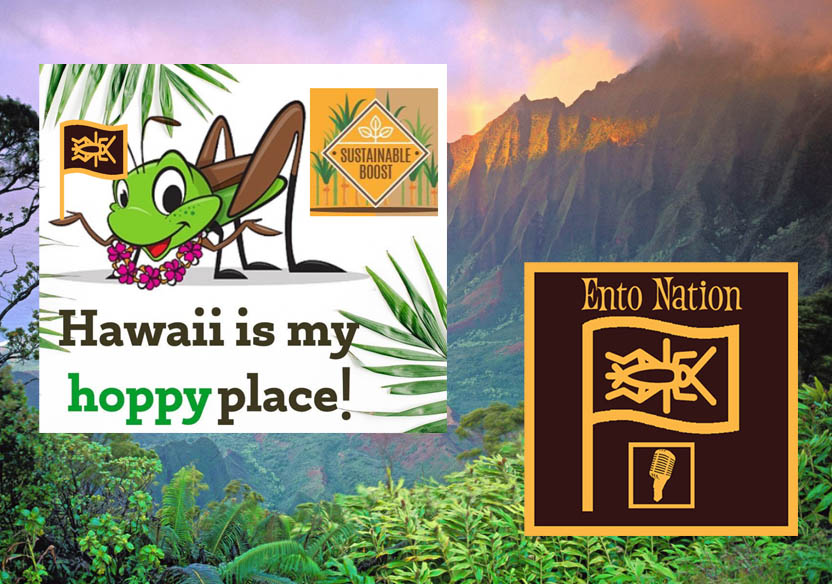 #6 "Hawaiian Homecoming"
On this week's Ento Nation podcast, it is our Hawaiian Homecoming Special. We sit down on the beautiful beach at Hanalei Bay, sort of, and have a chat with Emilio Romero and Lourdes Zietz of Sustainable Boost. Sustainable Boost creates wonderful food products made from crickets and other nutritious goodies like the native Taro plant, which is actually a superfood. The Cricket Man grew up on Kauai, and when he realized that there was a cricket farm there, he had to check it out.
ChefPV is back in the Cricketlicious Café this week with an island treat that will be a big hit with everyone, Pineapple Crick Sticks. He'll show you how to make those. You will find the recipe below.
And on the season finale of "As The Crickets Chirp", all we can say is "Pigdemonium".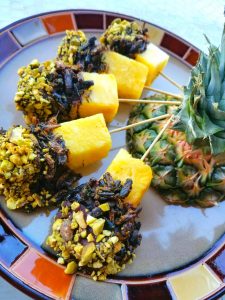 Pineapple Crick Sticks
1 large Pineapple
6-inch Skewers or Lollipop Sticks
1 TBSP Olive Oil
1 cup Sustainable Boost Crickets
2 TBSP Honey
Sustainable Boost Turmeric
Sustainable Boost Ginger
1 cup Semi-Sweet Dark Chocolate Chips
1 cup Pistachios (chopped)
On a sturdy cutting board, cut the top and bottom off the Pineapple then trim off all the rind from the sides.

Cut the Pineapple in half lengthwise, remove the core, then cut the halves into wedges.  Arrange the wedges on paper towels to absorb excess moisture.

Insert Skewer/Lollipop Stick into each pineapple wedge and set aside.

Heat Olive Oil over medium heat and add Crickets to pan and quick-crisp for about 1 minute.

Remove from heat and add Honey, Sustainable Boost Turmeric and Sustainable Boost Ginger.  Mix until all ingredients are evenly incorporated.  Transfer to a bowl then set aside.

Place a small saucepan over medium-low heat, add Dark Chocolate Chips and stir constantly until completely melted.  Remove from heat.

Line a baking sheet or large plate with wax or parchment paper.

Dip each of the Pineapple wedges into the Chocolate and place on the wax paper.

Lightly press the Crickets into the bottom half of the chocolate on the Pineapple wedges.

Lightly Press the Chopped Pistachios on the top portion of the chocolate on the Pineapple wedges.

Place the sheet/plate of Pineapple wedges into fridge for 15 minutes to set or until ready to serve.
We'd like to thank our sponsors:
Dr. Aaron T. Dossey, editor of "Insects as Sustainable Food Ingredients":
https://www.elsevier.com/books/insects-as-sustainable-food-ingredients/dossey/978-0-12-802856-8
GrioPro Cricket Powder: http://cricketpowder.com/
All Things Bugs: http://allthingsbugs.com/
Sustainable Boost: http://entomofarms.com/
Bugible: https://www.eatbugsevents.com/